Wish to improve
customer experience?
Messaging platform as a business driver….
With automation built over WhatsApp,
businesses can drive
Customer onboarding
Automated sales ordering
Customer support at scale
How WhatsApp chatbot can supercharge your customer conversations
The most common uses of WhatsApp bots include:
Sending Notifications

transactions, invoicing, delivery, updates,

Navigation & Discovery

of product & service offering, content, etc.

Relationship management

transactions, invoicing, delivery, updates,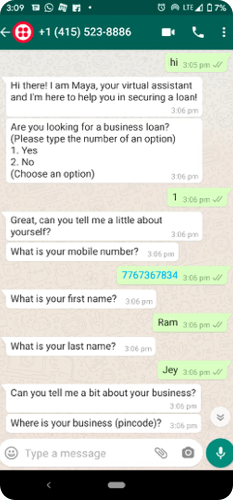 5 steps to build Whatsapp chatbot today

Step 1 Understand the conversation context – If there are any integrations required, identify the details and the API information

Step 2 Work on the chat flow and create the intents, entities, and responses

Step 3 Work with the customer on the bot theme and branding

Step 4 Deploy in customer website for testing

Step 5 Deploy dashboards to view the Bot metrics
Enterprise Integrations to maximize ROI

CRM
System

HR
System

ERP
System

Ticketing
System

Ordering
System
Use WhatsApp bots to create hyper-personalized customer experience

"If you get a WhatsApp message, you're probably going to open it. That's the interesting thing." Harper Reed
Unlock intelligence in every step of your customer workflow.
Here's how our customers did it with our robust Autonom8 platform.
Trusted by companies across the globe