Trusted by companies across the globe
















Autonom8 is not just another workflow platform
Platforms enabling customer interactions have been around for long- but consumers remain dissatisfied. Autonom8 is changing that by enabling business leaders craft customized user-experience by themselves.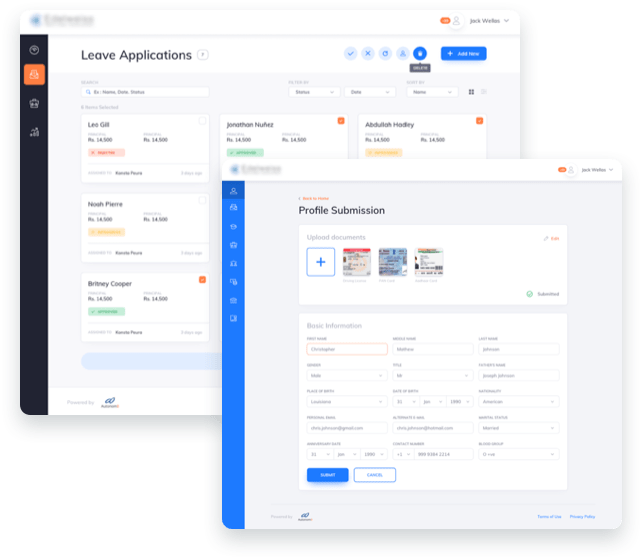 Consumer-first view

Unlike inward looking workflows, A8 aims to bridge internal capability around consumer needs

Intelligent

Adapts based on context & business objective to personalize & optimise

Build for speed

Deployment within 2-4 weeks and tweaks on the fly. Allows rapid iteration

Enterprise-solidity & Cloud flexibility

Ability to meet enterprise rigor with zero capex & variable costs
Areas where A8 can help you
Enterprise processes can be unique.
Let us know your needs here and we will revert within 48 hours on a process design that will work best for you. Just takes 2 mins.

4x
Reduction in cycle time.
Shorter cycle times
Say good bye to long deployment- Implement within weeks and tweak within days

Personalized & optimized
AI will use data to recommend/ auto-tune process for continuous improvement

15%
Rise in customer satisfaction.
Closer to customer
Business users design and tweak processes quickly to ensure best user experience
Our value proposition
Given business volatility, enterprises need to constantly innovate processes to meet consumer demands. The A8 platform makes that possible

"We aim to deliver the speed and agility of an innovator, coupled with the stability and rigor that enterprises demand"
Bala Kavikkal, Founder & CEO
A few customer stories
A key feature of our deployments is that customers typically become aware of new possibilities and identify areas to improve or create new customer journeys