In times like these where a pandemic has gripped the world, and each of us is staying put in our homes, the bankers are working on the frontline. But with chants of 'social distancing' echoing in everyone's minds, how will it be possible to provide access to everyone of this essential service – Banking? The minute we think of a bank, we can easily associate it to the crowd. In this era where customers want to remain socially distant but still want to be able to carry out banking without a visit to the bank; Conversational AI can be the most feasible, instant and inexpensive way to meet the needs of customers. 
The banking industry has been an early adopter of most technological advancements that have gone on to bring them tremendous growth & customer delight. Banks have an ever-growing customer base who in turn have ever-growing expectations. When Artificial Intelligence came into the picture, it was only a matter of time until the Banking industry began adopting smart banking automation solutions.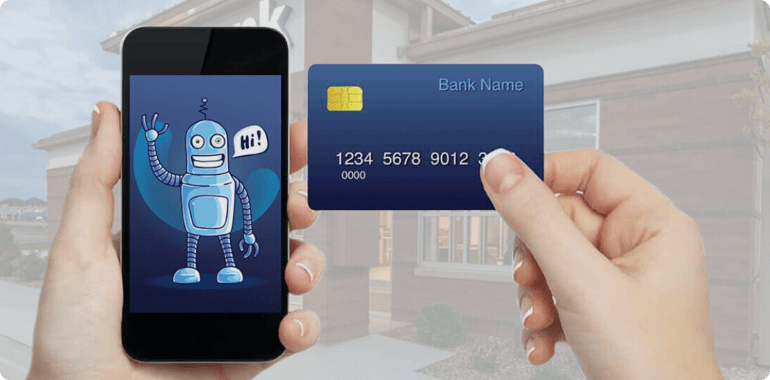 Conversational AI in particular has gained a lot of traction in the last few years with chatbots and voice bots. The interactive abilities of Conversational AI can contribute on a large scale to great customer experience. It can carry out smart human-like interactions with customers on behalf of the bank and it's staff. What's more? It can converse with millions of customers in a short time and only cost the bank a small fraction of the cost of human agents. 
A report by Juniper Research says that for every query that a chatbot handles, banks save 4 minutes of an agent's time. This translates to banks saving a cost of 0.70 USD per query. Recent estimations say that the use of Conversational AI in the banking sector will lead to savings of 7.3 billion USD by 2023. This represents a total time saved for banks in 2023 of 862 million hours – equivalent to nearly half a million working years!
The gains for Conversational AI in banking look very promising since Banks are increasingly investing in AI-powered chatbots as a smarter way to acquire, engage and serve customers. The reasons to use chatbots in banking are many – ease of use, cost savings, 24/7 support and even new account generation.
Related article: Conversational Banking 101: Everything You Need To Know

Key features of a smart banking chatbot
Can provide real-time customer support by carrying out tasks like checking account balance, making payments, card activation or loss /theft recovery.

Can help customers make smarter financial decisions by providing them with actionable insights by analyzing their spending habits

Can leverage the power of NLP to understand customer queries and pick up the solution from its database within seconds

Can easily understand routine queries and FAQ's about the bank's wide range of products and services

Can be trained to gradually handle more complex queries over a period of time by continuously analyzing customer feedback

These are some of the things that an AI-powered banking chatbot is capable of doing. Click here to know more.
Let's see some use cases that are successfully tried and tested in the Banking industry
Customer support

by handling customer queries and giving them the solution or redirecting customers to the right person. Banks that have adopted have reported a 40% decrease in calls to customer support.

Lead generation

by bots embedded on the websites of banks resulting in a 600% increase in leads among banks who have used this feature

Personal banking assistant

to customers, therefore, reducing the need for customers to visit a bank physically and carry out tasks from wherever they are

Feedback collection

from customers regarding their interactions with the chatbot has given banks useful insights
A Banking virtual assistant can effectively contribute to the bank's customer service needs by sending notifications for payment reminders, sharing money-saving tips, banking-related articles, updates on credit scores, and helping with simple transactions.
According to Millennials and Baby boomers, what are the top 5 Potential benefits of chatbots?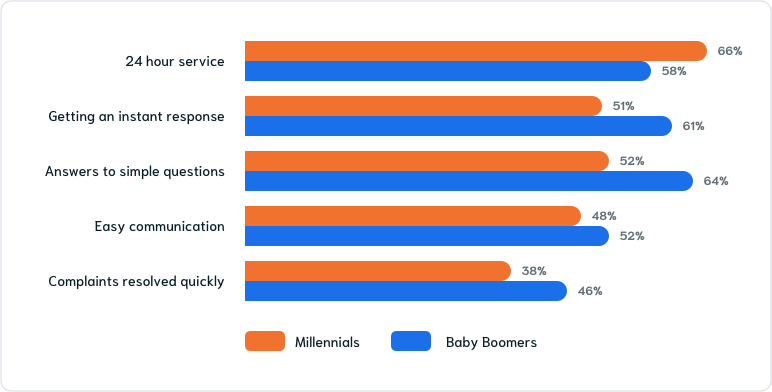 24-hour service is the biggest benefit of chatbots that both Millennials and Baby boomers see which is obviously quite a huge task to carry out in case of human agents. This is closely followed by getting an instant response and then getting answers to simple questions that do not require a human agent.
Related article: Increase Banking CSAT with Conversational AI Chatbots in 2023
Summary
Conversational AI whether in the form of voice bots or chatbots provides a unique conversational experience for customers giving them human-like interactions. Bots are now able to handle more and more complex queries and their ability to get trained in expanding rapidly. As we already know, banking is a sector that has always been ahead of the curve when it comes to adopting new technology and Conversational AI is one such case. In this new era of social distancing – A8 Chat can largely help banks interact and engage with their customers in the right way, at the right time. Schedule a demo with Autonom8 to learn more.