Autonom8 provides the end-to-end ecosystem advantage that you, as an insurer, could use to play at the same level as leading insurtech providers. Autonom8 can reimagine your insurance customer journey workflows, blend in data insights from different technology vendors, and enable autonomous learning capabilities into existing insurance journeys. Let's have a look at how A8 can transform the existing insurance journey we just outlined in the previous section.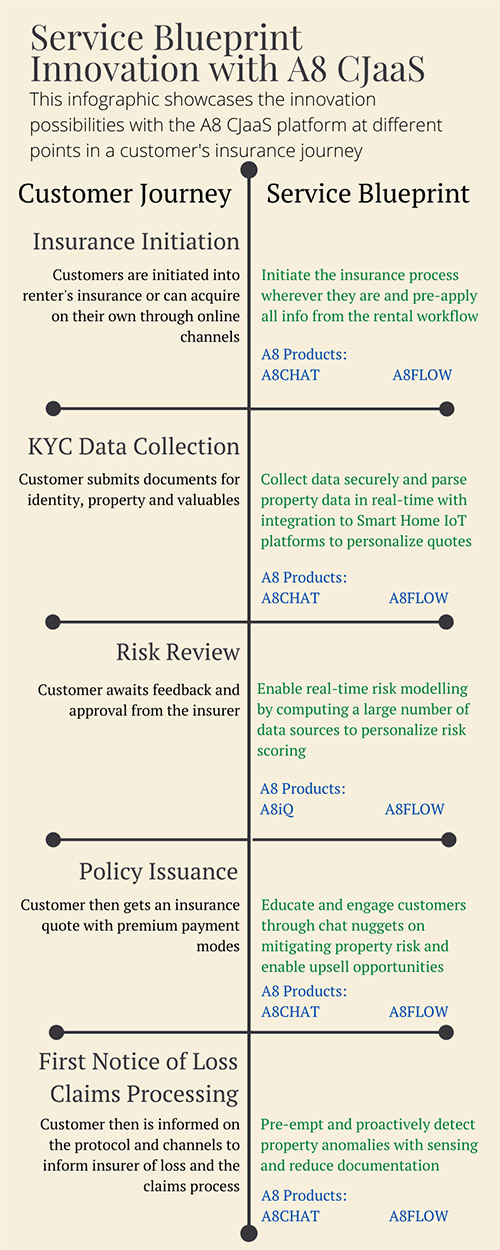 Insurance Initiation
It is important to note that acquiring insurance is an integral part of the rental process. Insurers can bring A8Flow from Autonom8 (A8) to handle this challenge, by seamlessly integrating with digital end-user channels. As soon as customers have finalized their rental agreement online, they can initiate the insurance process wherever they are – through their web chat platform, or any messaging platform like FB messenger or WhatsApp.
Customers need not install a separate application or log into a different website to initiate their digital insurance application. A8's A8Chat and A8Flow can consistently hold conversation context across multiple customer channels  without losing context. A8Chat can pre-apply all information passed from the rental process to pre-qualify customers, expedite lead generation, and trigger versatile (image or video-based) eKYC processes to authenticate in-place within the chat conversation.
Data Collection for KYC
A8Chat, combined with A8Flow, provides insurers the ability to gather all data they require securely, through conversational channels.. It can also run real-time checks behind the scenes based on zip code and personalize preliminary quotes instantly based on initial customer and property information passed from the rental process through workflow automation. It can also integrate into IoT-enabled API platforms, further refining the quote process, taking into account property conditions, maintenance needs and security.
Risk Review and Scoring
The A8 platform provides the ability to compute a large number of data points from multiple sources like weather systems, IAG, crime data, property intelligence data platforms like Zillow, and all credit agencies to provide an ability to determine and personalize risk scoring down to the individual. This provides insurers with levers of real-time intelligence to offer smarter contracting and underwriting options. Combined with A8iQ, the A8 platform provides autonomous learning expertise to your risk review team, since it allows dynamic modeling of your scoring based on changing market conditions, rather than relying only on historical location and risk modeling data.
Policy Issuance
Instead of just providing documentation on their policies, A8Chat can create a differentiated experience by providing bite-sized product education conversations to customers. An example would be to recommend through chat snippets how they could reduce property risk by using appropriate sensing equipment. Chat insights can also upsell insurance to customers when adding or replacing appliances.
First Notice of Loss and Claim Processing
Due to its ability to gather sensor data from with IoT data sources, A8Flow can proactively detect anomalies in property conditions damage and provide the necessary documentation proactively in case of property loss and damage using workflow automation. It would reduce the need to submit redundant claim documentation from the customer's end. Additionally, on the customer's behest, A8Chat and A8Flow could provide the customer proactive support by initiating workflow automation processes on the customer's behalf to related service providers, thus providing a concierge-like experience to the customer in their hour of need.
Maintained this for keyword relevance.  Let me know if you would like to still replace it for tech accuracy.